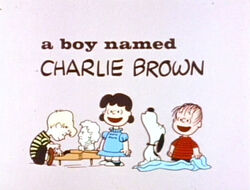 Not to be confused with the 1969 film of the same name
A Boy Named Charlie Brown is an unreleased 1963 documentary produced by Lee Mendelson focusing on Charles Schulz and his comic strip, Peanuts. It was produced by Lee Mendelson with some animated vignettes by Bill Melendez with music by Vince Guaraldi.
History
Once upon a time, a documentary filmmaker named Lee Mendelson produced a film about baseball legend Willie Mays entitled A Man Named Mays. After producing a documentary about the world's greatest baseball player, Mendelson decided to do a film about the world's worst baseball player, Charlie Brown.
A DVD of this documentary is currently only available at the Charles M. Schulz Museum.
External links
Ad blocker interference detected!
Wikia is a free-to-use site that makes money from advertising. We have a modified experience for viewers using ad blockers

Wikia is not accessible if you've made further modifications. Remove the custom ad blocker rule(s) and the page will load as expected.