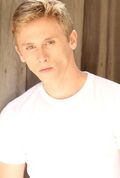 Adam Taylor Gordon (born on June 20, 1993) is an American former child actor. He voiced Charlie Brown in I Want a Dog for Christmas, Charlie Brown. He also played Sim Trip 8 and Young Charles Tucker in Star Trek: Enterprise, Cooper in Cheaper By the Dozen, Ricky Martain in Cellular, Joey White in Medical Investigator, Devon Rensler in Weeds and Sam in The Garden.
External links
Ad blocker interference detected!
Wikia is a free-to-use site that makes money from advertising. We have a modified experience for viewers using ad blockers

Wikia is not accessible if you've made further modifications. Remove the custom ad blocker rule(s) and the page will load as expected.