All (formerly known as All Oxi) is a brand of North American laundry detergent manufactured by the Sun Products Corporation of Wilton, Connecticut. Peanuts characters have been used in its advertising.
Videos
In 2015, a live-action All Oxi commercial was released in which several children appear as Peanuts characters, including Charlie Brown, Lucy, Linus. An unnamed boy (possibly representing "Pig-Pen") gets his clothes especially dirty, after high fiving Charlie Brown, playing with Snoopy (portrayed by a real dog), and playing football. However his mother, using All Oxi laundry detergent, is able to get his clothes clean. As the boy leaves his house, he thanks his mother, who answers using the usual trombone which plays when adults speak in Peanuts animated cartoons. The music "Linus and Lucy" by Vince Guaraldi is played throughout the commercial.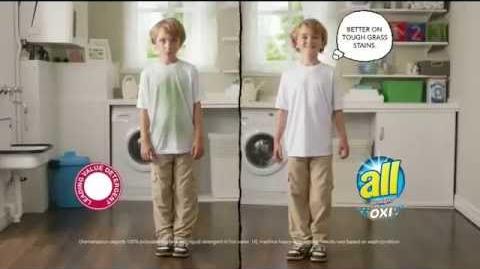 Another commercial, in CGI animation, was released to tie in with the 2015 release of The Peanuts Movie. In the commercial, Snoopy, as the magician The Great Houndini, uses the power of All detergent to make "Pig-Pen" and his clothes remarkably clean.
External links
Ad blocker interference detected!
Wikia is a free-to-use site that makes money from advertising. We have a modified experience for viewers using ad blockers

Wikia is not accessible if you've made further modifications. Remove the custom ad blocker rule(s) and the page will load as expected.