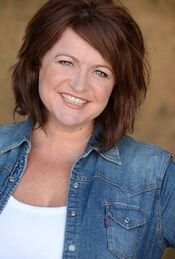 Angela Lee (who now goes by the name of Angela Lee Sloan) is a former child actress who provided the voice of Lucy van Pelt in The Charlie Brown and Snoopy Show and in the 1983 Peanuts television specials: Is This Goodbye, Charlie Brown? and It's An Adventure, Charlie Brown.
Lee was one of the three finalists for the title role in the 1982 film, Annie, but she lost the role to actress Aileen Quinn and got the role of a dancer instead. She guest-starred on television series including Quincy, M.E, The Incredible Hulk, The Master, The Love Boat, Kids Incorporated, and Highway to Heaven. She had a recurring role as Julia on Who's the Boss? from 1985 to 1987, and later as Brenda Walker on The Hogan Family from 1990 to 1991.
As of 2004, Angela Lee Sloan works at a radio station in California.
External links
Ad blocker interference detected!
Wikia is a free-to-use site that makes money from advertising. We have a modified experience for viewers using ad blockers

Wikia is not accessible if you've made further modifications. Remove the custom ad blocker rule(s) and the page will load as expected.