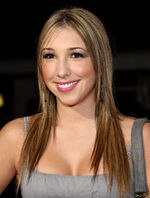 Ashley Edner (born Ashley Louise Edner on December 17, 1989 in Downey, California) is an actress who provided the voice of Sally Brown in It's the Pied Piper, Charlie Brown.
She is the sister of actor and singer Bobby Edner and has appeared in various films and television shows such as Star Trek Beyond, The Amanda Show, MADtv, Spider-Man and Dickie Roberts: Former Child Star.
External links
Ad blocker interference detected!
Wikia is a free-to-use site that makes money from advertising. We have a modified experience for viewers using ad blockers

Wikia is not accessible if you've made further modifications. Remove the custom ad blocker rule(s) and the page will load as expected.