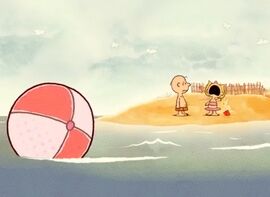 "Bye Bye, Ball"
is a short animated cartoon from the 2014 French TV series
Peanuts
, produced by Normaal animation and based on the comic strip
Peanuts
by
Charles M. Schulz
.
Plot
Charlie Brown and his sister, Sally enjoy an interesting day at the beach.
Basis
The short is based on Sunday strips from August 24, 1969 and July 21, 1974 and on daily strips from August 18 and August 19, 1970.
Short