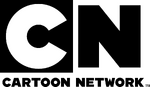 Cartoon Network (stylized as CARTOON NETWORK and CN) is an American digital and satellite television channel owned and distributed by Time Warner through Turner Broadcasting.
In the late 1990s, Race for Your Life, Charlie Brown and Bon Voyage, Charlie Brown (And Don't Come Back!!) were occasionally shown on the channel as an installment of the weekly Cartoon Theater program.
The channel airs the 2014 French TV series Peanuts in the United States.
The channel used to air the TV series MAD, which parodies Peanuts, but it was cancelled.
After Cartoon Network signs off, it switches to Adult Swim, which currently airs Family Guy and Robot Chicken.
External links