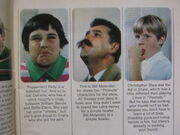 Christopher Dylan Shea (February 5, 1958 - August 19, 2010) was an actor who provided the voice of Linus van Pelt in five Peanuts television specials: A Charlie Brown Christmas, Charlie Brown's All-Stars, It's the Great Pumpkin, Charlie Brown, You're in Love, Charlie Brown, and He's Your Dog, Charlie Brown.
Shea appeared on various television series throughout the 1960s and 1970s. He was the older brother of Stephen Shea, who provided the voice of Linus in Peanuts television specials during the 1970s, and Eric Shea, who was also an actor.
On August 10, 2010, in Honeydew, Humboldt County, California, Shea died of natural causes at the age of 52. He is survived by his wife and two daughters.
External links
Ad blocker interference detected!
Wikia is a free-to-use site that makes money from advertising. We have a modified experience for viewers using ad blockers

Wikia is not accessible if you've made further modifications. Remove the custom ad blocker rule(s) and the page will load as expected.