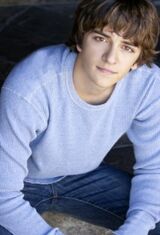 Daniel Hansen is an American former child actor. He voiced Peppermint Patty in Lucy Must Be Traded, Charlie Brown. He also played Young Ray in Everybody Loves Raymond, Rufus in The Puppies Present Incredible Animal Tales, Tommy in Love Boat: The Next Wave, Albert Williams in The Pretender, Kenny in 6 1/2, Boy Malkovich in Being John Malkovich, Young Max in Roswell, Loius Bracken in Bette, Dan in Trust Me, Joey in The Big Day, Peter Warner in The Nightmare Room, Todd in City Guys, Spider Kid in Buying the Crow, A student in Stuart Little 2, Joel Collins in Judging Amy, Dwayne in ER, The Storm in the TV series Avatar: The Last Airbender, Paulo in La fille du chef and Lewis in Meet the Robinsons.
External links
Ad blocker interference detected!
Wikia is a free-to-use site that makes money from advertising. We have a modified experience for viewers using ad blockers

Wikia is not accessible if you've made further modifications. Remove the custom ad blocker rule(s) and the page will load as expected.