Emily
Talk

0
662pages on
this wiki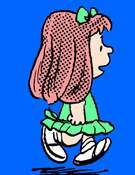 Emily is a minor female character in the Peanuts comic strip by Charles M. Schulz who first appeared on February 11, 1995.
History
In her first appearance Emily asks Charlie Brown to dance with her at an afternoon dance class. Charlie Brown is thrilled by the experience. The strips in the week following Emily's first appearance show Charlie Brown telling Linus and Sally about her, remembering the dance and eagerly going off to his next dance lesson. In the strip from February 16, 1995 Charlie Brown's dance teacher tells him that there is nobody called Emily in the class. The strip from February 17, 1995 shows Charlie Brown thinking that he is dancing with Emily but actually dancing by himself and talking to somebody who is not there. This suggests that Emily is nothing more then a figment of Charlie Brown's imagination.
Emily appeared in two more storylines in strips that first appeared in 1996 and 1999, but on those occasions there is no mention of her being an imaginary character and Snoopy is able to see her too. Consequently, the question of whether or not Charlie Brown had only imagined Emily was never resolved.
Trivia
Emily is one of the many Peanuts characters to appear in the game Snoopy's Street Fair. In the game, she owns a booth where she sells dance footwear, which clearly references how she loves to dance.
External links