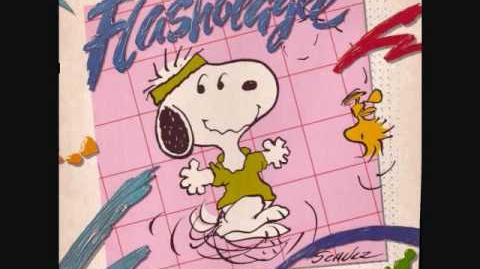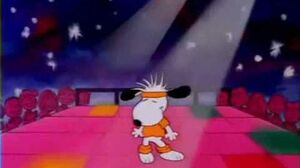 "Flashbeagle", sung by Desirée Goyette and Joey Scarbury, is the theme tune to the 1984 TV special It's Flashbeagle, Charlie Brown. Portions of the song are also played at two other points in the special, when Snoopy accompanies Franklin to a nightclub and when Sally takes the dog to school for Show and Tell. The song is played one last time during the end credits.
A longer version of the song appears on the soundtrack album Flashbeagle, which was released to accompany the special.
A slow instrumental version of the chorus plays when an exhausted Snoopy returns home from dancing at the nightclub, much to the surprise of Charlie Brown.
Lyrics (album version)
He steps on the floor without making a sound,
Then he starts feeling the beat,
You would think the floor was greased,
By the way he's moving his feet.
(Chorus)
He is a champion,
He is the best,
Impossible to tame,
People say that he is obsessed,
Listen to the sound of his name.
They call him Flash, Flash, Flash, Flash,
Flashbeagle,
When he goes around the whole room starts to reel.
You know he's Flash, Flash, Flash, Flash, Flashbeagle,
When he jumps up high he glides like a wild eagle.
Lightning flashes when he leaps up,
He's got everybody shouting for more,
Thunder crashes when he hits the ground,
He's burning up the dancin' floor.
(Repeat chorus)
[Instrumental break]
From the fur on his feet to the tip of his nose,
He's got rhythm pumping all through his veins,
He spins like a top that'll never stop,
With the power of a hurricane.
(Repeat chorus)
Ad blocker interference detected!
Wikia is a free-to-use site that makes money from advertising. We have a modified experience for viewers using ad blockers

Wikia is not accessible if you've made further modifications. Remove the custom ad blocker rule(s) and the page will load as expected.