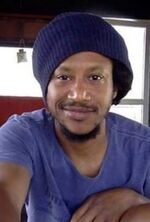 Hakeem Abdul-Samad (also credited as Hakeem) (born March 26, 1975 in Carson, California) is a singer and actor who provided the voice of Franklin in This Is America, Charlie Brown in the episodes "The Smithsonian and the Presidency" and "The Music and Heroes of America" in 1989.
He is well-known for performing with his brothers in the 1980s R&B group The Boys. His other acting credits include appearing in the films Wildcats and Ernest Goes to Camp.
External links
Ad blocker interference detected!
Wikia is a free-to-use site that makes money from advertising. We have a modified experience for viewers using ad blockers

Wikia is not accessible if you've made further modifications. Remove the custom ad blocker rule(s) and the page will load as expected.