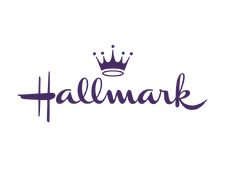 Hallmark Cards is a privately owned American company based in Kansas City, Missouri. It is the largest manufacturer of greeting cards in the United States. It was founded by Joyce Clyde Hall in 1910 as a business that sold postcards. By 1917, the focus of the business had shifted towards Valentine's Day and Christmas cards. By 1922, the company produced general greetings cards that could be sent at any time of the year as well as holiday ones.
In 1951, Hallmark Cards began sponsoring television programs on NBC. This led to the creation of the Hallmark Hall of Fame television series which won eighty Emmy Awards. The first television adaptation of the stage musical You're a Good Man, Charlie Brown, a live-action production from 1973, was made as an episode of Hallmark Hall of Fame.
Hallmark Cards has a chain of stores which sell items including books, ornaments, wrapping paper and other items of stationery as well as greetings cards.
Peanuts characters are licensed to appear on Hallmark greetings cards and Peanuts merchandise is sold at Hallmark Cards stores.
Videos
External links