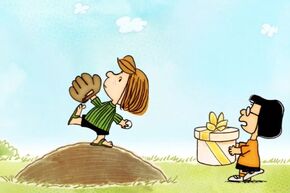 "Haute Couture"
is a short animated cartoon from the 2014 French TV series
Peanuts
, produced by Normaal animation and based on the comic strip
Peanuts
by
Charles M. Schulz
. It first aired on France 3 on December 2, 2014.
Plot
Marcie brings a box full of homemade caps for Peppermint Patty's baseball team. Some of them are too small, some of them are too big but most of them are really weird.
Basis
The short is adapted from a series of comic strips from April 1976.
Ad blocker interference detected!
Wikia is a free-to-use site that makes money from advertising. We have a modified experience for viewers using ad blockers

Wikia is not accessible if you've made further modifications. Remove the custom ad blocker rule(s) and the page will load as expected.