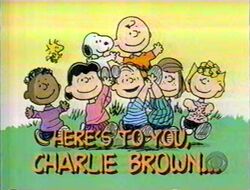 Here's to You, Charlie Brown: 50 Great Years is a documentary that aired on CBS in May of 2000, in commemoration of Peanuts' 50th anniversary. It was the final Peanuts project with contributions by Charles M. Schulz, and also the last Peanuts-related production to be premiered on CBS.
This special was nominated for the Emmy Award for Outstanding Children's Program. Editor Brian Schnuckel received a separate individual Emmy nomination.
External links
Ad blocker interference detected!
Wikia is a free-to-use site that makes money from advertising. We have a modified experience for viewers using ad blockers

Wikia is not accessible if you've made further modifications. Remove the custom ad blocker rule(s) and the page will load as expected.