Hungry Jack's is an Australian company which has an exclusive franchise to run Burger King restaurants throughout Australia. The majority of those restaurants operate under the Hungry Jack's name.
When the American fast food chain Burger King first expanded into Australia. it was discovered that the name Burger King was already a registered trademark of another company there. The Australian franchise holder Jack Cowin was provided with a list of possible alternative names for the fast food restaurant. The rights to all of the names on the list were held either by Burger King or by its then parent company Pilsbury. Cowin selected the name Hungry Jack, which had already been used as the name of a brand of pancake mix marketed by Pilsbury in the United States, and then modified it slightly to Hungry Jack's.
Videos
In 1995, to celebrate the forty-fifth anniversary of the Peanuts comic strip, Hungry Jack's sold four mugs which had images of Charlie Brown, Marcie, Snoopy and Lucy on them.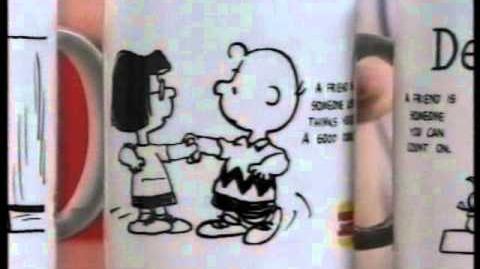 External links
Ad blocker interference detected!
Wikia is a free-to-use site that makes money from advertising. We have a modified experience for viewers using ad blockers

Wikia is not accessible if you've made further modifications. Remove the custom ad blocker rule(s) and the page will load as expected.