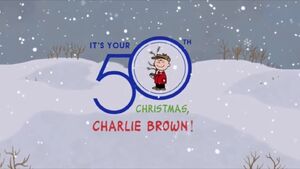 It's Your 50th Christmas, Charlie Brown is a TV special that celebrates the 50th anniversary of A Charlie Brown Christmas. It aired on ABC on November 30, 2015. It is hosted by Kristen Bell and produced by Lee Mendelson.
Synopsis
According to a press release, the show featured "spectacular live performances of Vince Guaraldi's classics from acclaimed musical guests" and "Hollywood notables reminiscing about their most treasured A Charlie Brown Christmas moments."
Kristen Bell hosted the event before a live audience. Kristin Chenoweth performed "Happiness" from You're a Good Man, Charlie Brown, and Matthew Morrison performed "Just Like Me", which was originally written by David Benoit and Lee Mendelson for the 40th anniversary tribute album to the special. It also included performances by Sarah McLachlan, Boyz II Men, Pentatonix, Benoit, and the All-American Boys Chorus. In the promos, President Barack Obama and First Lady Michelle Obama also made an appearance.
Segments
Interviewees
Bill Melendez (archive footage)
Charles Schulz (archive footage)
David Willat (member of the choir that sang in the special)
Priyanka Chopa (star of ABC's Quantico)
Players from the San Francisco Giants
Carli Lloyd
External links
Ad blocker interference detected!
Wikia is a free-to-use site that makes money from advertising. We have a modified experience for viewers using ad blockers

Wikia is not accessible if you've made further modifications. Remove the custom ad blocker rule(s) and the page will load as expected.