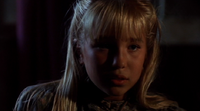 Jennifer Banko (born on November 8, 1978 in Riverside, California) is an actress who provided the voice of Lucy van Pelt in Why, Charlie Brown, Why?
She also appeared in horror films such as Friday the 13th Part VII: The New Blood and Leatherface: Texas Chainsaw Massacre III.
Ad blocker interference detected!
Wikia is a free-to-use site that makes money from advertising. We have a modified experience for viewers using ad blockers

Wikia is not accessible if you've made further modifications. Remove the custom ad blocker rule(s) and the page will load as expected.