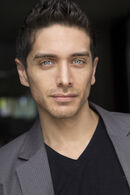 Josh Keaton (born Joshua Luis Wiener on February 8, 1979 in Pasadena, California) is an actor and singer who provided the voice of Linus van Pelt in Snoopy's Reunion.
His other work includes working in various television shows, films and video games. He was also a member of boy band No Authority.
His sisters, Alitzah, Danielle and Sabrina are actresses as well.
External links
Ad blocker interference detected!
Wikia is a free-to-use site that makes money from advertising. We have a modified experience for viewers using ad blockers

Wikia is not accessible if you've made further modifications. Remove the custom ad blocker rule(s) and the page will load as expected.