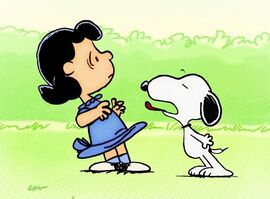 "L'amour du risque" (French for "the love of risk" or "risky love") is a short animated cartoon from the 2014 French TV series Peanuts, produced by Normaal animation and based on the comic strip Peanuts by Charles M. Schulz. It first aired on France 3 on November 9, 2014.
Plot
Lucy is in a really bad mood. She does not want anybody to come in her way but Snoopy does so. Lucy and Snoopy start fighting. Linus notices and tells Charlie Brown about it.
Basis
The short is adapted from a series of strips in which Lucy and Snoopy fight from May 1965. The same storyline had previously adapted in the 1968 TV special He's Your Dog, Charlie Brown and in the short "Snoopy" from the 1983 The Charlie Brown and Snoopy Show episode "Snoopy: Man's Best Friend".
Trivia
In the short, Linus warns Charlie Brown about the fight, but originally, in the comic strip, 5 is the one who does so.
Ad blocker interference detected!
Wikia is a free-to-use site that makes money from advertising. We have a modified experience for viewers using ad blockers

Wikia is not accessible if you've made further modifications. Remove the custom ad blocker rule(s) and the page will load as expected.