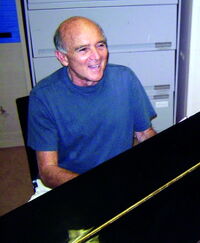 Larry Grossman (born September 3, 1938) is an American composer who composed the music for Snoopy!!! The Musical.
Musicals
Play it Again, Sam (1969)
Minnie's Boys (1970)
Goodtime Charley (1975)
Snoopy!!! The Musical (1975)
A Doll's Life (1982)
Ann Reinking... Music Loves Me (1984)
Diamonds (1984)
Grind (1985)
Paper Moon (1993)
A Gay Century Songbook (2000)
Tom Jones (2001)
It Must Be Him (2010)
A Christmas Memory (2010)
Scrooge in Love (2010)
The World According to Snoopy [Revised version of Snoopy!!!] (2017)
External links
Ad blocker interference detected!
Wikia is a free-to-use site that makes money from advertising. We have a modified experience for viewers using ad blockers

Wikia is not accessible if you've made further modifications. Remove the custom ad blocker rule(s) and the page will load as expected.