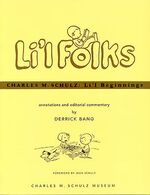 Li'l Folks was a one panel comic strip created by Charles M. Schulz that started on June 22, 1947, and ended on January 22, 1950. The strip is considered to be the embryonic version of Peanuts. It featured Charlie Brown, Patricia Smith, Rover the dog who resembled Snoopy, a well-dressed young man with a fondness for Beethoven, and several un-named characters who resembled Peanuts characters. 
Schulz quit two years into the strip after the newspaper editor turned down his requests: both a pay increase and to bring Li'l Folks from the women's section to the comics pages.
The comics were collected in the 2003 book Charles M. Schulz Li'l Beginnings by the Charles M. Schulz Museum, (ISBN 0974570915) The complete Li'l Folks strips are also included in Volume 25 of The Complete Peanuts.
Trivia
The character Patricia Smith is an early version of Patty (not Peppermint Patty).
Charlie Brown's first official appearance was in Li'l Folks on May 30, 1948, not in the first Peanuts strip on October 2, 1950.
See also
Ad blocker interference detected!
Wikia is a free-to-use site that makes money from advertising. We have a modified experience for viewers using ad blockers

Wikia is not accessible if you've made further modifications. Remove the custom ad blocker rule(s) and the page will load as expected.