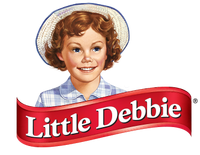 Little Debbie is an American snack foods brand. It is a division of the privately held and family owned company McKee Foods of Collegedale, Tennessee. The Little Debbie brand was created in 1959. It was named after the granddaughter of the company's founders Ruth and O.D. McKee. The original image used on the packaging of Little Debbie products was based on a black-and-white photograph of the McKees' granddaughter. In 1960, artist Pearl Mann redesigned the Little Debbie logo in color. She was asked to make the girl in the image look slightly older. A few subtle changes have been made to the logo since then.
Products sold under the Little Debbie name are mostly cookie and cake-based dessert snacks. The most popular of those are Swiss Cake Rolls, Nutty Bars, Cosmic Brownies and Oatmeal Creme Pies. They are sold in boxes and in individual wrappings.
In 2015, Peanuts characters appeared on the packaging of Little Debbie foods to promote the release of The Peanuts Movie.
Gallery
External links
Ad blocker interference detected!
Wikia is a free-to-use site that makes money from advertising. We have a modified experience for viewers using ad blockers

Wikia is not accessible if you've made further modifications. Remove the custom ad blocker rule(s) and the page will load as expected.