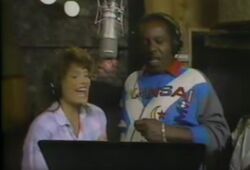 Lou Rawls (December 1, 1933 - January 6, 2006) was American musician. He was well-known as an R&B singer and songwriter.
Rawls provided vocals for some of the music in the episode"The Music and Heroes of America" of This is America, Charlie Brown. Rawls also worked on many animated Garfield projects (produced by Phil Roman) along with Desirée Goyette.
External links
Ad blocker interference detected!
Wikia is a free-to-use site that makes money from advertising. We have a modified experience for viewers using ad blockers

Wikia is not accessible if you've made further modifications. Remove the custom ad blocker rule(s) and the page will load as expected.