Marbles
Talk

0
926pages on
this wiki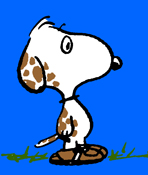 Marbles is a minor animal character in Charles M. Schulz's comic strip, Peanuts. He is one of Snoopy's brothers and is reportedly the smartest one in the family. Marbles' main feature is his spotted ears. In his first appearance in the strip, he is also depicted as wearing shoes.
History
Marbles' first appearance in Peanuts was on September 28, 1982 as part of a series of strips in which he visits Snoopy. Marbles finds his brother pretending to be the World War I Flying Ace, preparing to do battle with the Red Baron. Marbles finds everything confusing when Snoopy allows him to join in with the game. Unlike Belle and Spike, who shared imaginary World War I adventures with Snoopy in other strips, Marbles is unwilling to participate in the fantasy. He insists that what Snoopy describes as an ambulance is really a shopping cart and that Snoopy's Sopwith Camel plane is just a doghouse. Soon afterwards, a confused Marbles leaves the neighborhood.
Marbles appears with the rest of Snoopy's brothers and sisters, including two who had not appeared or been named in the strip, in the animated television special, Snoopy's Reunion, which originally aired on CBS on May 1, 1991. He plays the banjo in the special. He also appears in a flashback in I Want a Dog For Christmas, Charlie Brown. Marbles' appearance is different in the animated television specials as he is seen not wearing shoes like in the strip and his eyes are like his brother Snoopy's.
External links