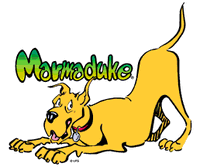 Marmaduke is a newspaper comic strip drawn by Brad Anderson from 1954 to the present day. The strip was created by Anderson, with help from Phil Leeming (1955–1962) and later Dorothy Leeming (1963–1969). The strip revolves around the Winslow family and their Great Dane, Marmaduke. Anderson, who says he draws on Laurel and Hardy routines for his ideas, received the National Cartoonists Society Newspaper Panel Cartoon Award for the strip in 1978.
References to Peanuts
In the strip from May 27, 2000, the day of the Peanuts tributes, Marmaduke does a Suppertime dance, when Barbara, one of the Winslow children, brings him his supper dish. Barbara, who is wearing a Charlie Brown shirt, then asks, "Why do you insist on doing a Snoopy every time I bring your supper?".
In the strip from March 20, 2011, Marmaduke decides to sleep on top of his doghouse, like Snoopy does. However, his back becomes to stiff for him to sleep on top of the doghouse, and he falls down. A neighbor calls out to Marmaduke, "Who do you think you are, Snoopy?".
External links
Ad blocker interference detected!
Wikia is a free-to-use site that makes money from advertising. We have a modified experience for viewers using ad blockers

Wikia is not accessible if you've made further modifications. Remove the custom ad blocker rule(s) and the page will load as expected.