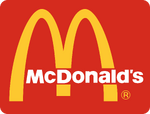 McDonald's is the world's largest chain of hamburger fast food restaurants. It was founded in 1948 in San Bernadino, California by brothers Richard and Maurice McDonald. In 1955, Ray Kroc opened a McDonald's franchise in Des Plaines, Illinois. Kroc later took over the company from the McDonald brothers and oversaw its expansion worldwide. McDonald's now operates in 118 countries and territories, has 36,525 restaurants and employs more than 420,000 people.
Over the years, there have been several McDonald's promotions which have featured Peanuts characters, often as part of the chain's Happy Meal children's menu.
McDonald's was the original sponsor of the 1988 animated TV special Snoopy!!! The Musical.
Videos
In the summer of 1983, McDonald's sold
Camp Snoopy
glasses.
In the 1990's, McDonald's sold Peanuts toys with its Happy Meals.
In the 1990s, McDonald's sold toys which featured Snoopy playing sports with its Happy Meals in Japan.
In 2000, a commercial for McDonald's featuring Snoopy, Charlie Brown, Lucy, Linus and Peppermint Patty aired in Japan.
In 2003, McDonald's in Japan sold Snoopy toys with its Happy Meals again.
In 2015, McDonald's sold toys which tied in with The Peanuts Movie with its Happy Meals.
External links