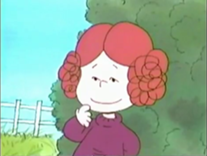 Melody-Melody is a minor female character who has never appeared in the Peanuts comic strip but who appears in the TV special You're in the Super Bowl, Charlie Brown. Melody-Melody has red hair which she wears in two buns. Throughout most of the special, she is seen wearing a purple shirt, green pants, and white shoes. At the end of the special, she is seen a sleeveless white shirt with a star motif and shorts. She is voiced by Crystal Kuns.
In the special, Melody-Melody catches the attention of Linus van Pelt and he develops a crush on her right away. Linus and Charlie Brown go out to get Melody-Melody a hot fudge sundae. They tell her about a contest which they are entering, where the winner wins free tickets to the Super Bowl. Melody thinks it is exciting. She tells them that she will come watch them and will be rooting for them. What Charlie Brown and Linus do not realize is that Melody plans on entering the contest. She ends up winning the contest, and leaves Linus heartbroken.
Ad blocker interference detected!
Wikia is a free-to-use site that makes money from advertising. We have a modified experience for viewers using ad blockers

Wikia is not accessible if you've made further modifications. Remove the custom ad blocker rule(s) and the page will load as expected.