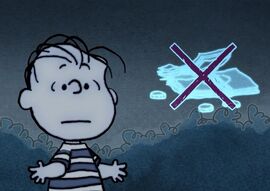 "Miss Othmar, The Return"
is a short animated cartoon from the 2014 French TV series
Peanuts
, produced by Normaal animation and based on the comic strip
Peanuts
by
Charles M. Schulz
.
Plot
Linus is really happy to find out that Miss Othmar, his favorite teacher, is coming back to school. Charlie Brown asks Linus about Miss Othmar's salary, which makes Linus feel really confused. Linus thinks that Miss Othmar returns the money and teaches out of the goodness of her heart.
Basis
The short adapts a strip from September 1, 1961 and a series of strips that originally ran between September 27 and September 30 1961.
Short
Ad blocker interference detected!
Wikia is a free-to-use site that makes money from advertising. We have a modified experience for viewers using ad blockers

Wikia is not accessible if you've made further modifications. Remove the custom ad blocker rule(s) and the page will load as expected.