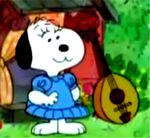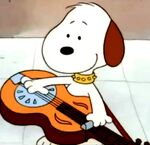 Molly and Rover are Snoopy's brother and sister. They appear in the TV special, Snoopy's Reunion. They apparently exist in the universe of the Peanuts comic strip, as shown when Snoopy's father receives a letter from all his children and mentions that all eight of them have signed it. However, unlike the rest of Snoopy's siblings, they never appeared and were never named in the strip. They most likely would have appeared if Schulz had been able to keep writing the Peanuts comic strip longer.
Molly appears to look very similar to her sister Belle, except that she wears a blue dress. In the special, she plays the mandolin. Molly is shown to be rather pampered because she has her own make-up. Rover looks like Snoopy, except his long floppy ears are brown instead of black. He plays the dobro.
Both these siblings grew up on the Daisy Hill Puppy Farm, and were eventually sold to different owners. Like all the siblings, they are shown to be upset when they find out that the Daisy Hill Puppy Farm has closed down, but are happy to be reunited with their family.
Ad blocker interference detected!
Wikia is a free-to-use site that makes money from advertising. We have a modified experience for viewers using ad blockers

Wikia is not accessible if you've made further modifications. Remove the custom ad blocker rule(s) and the page will load as expected.