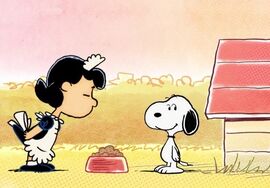 "Monsieur Is Served "
is a short animated cartoon from the 2014 French TV series
Peanuts
, produced by Normaal animation and based on the comic strip
Peanuts
by
Charles M. Schulz
. It first aired on France 3 on November 21, 2014.
Plot
Snoopy is so fussy about his supper that he wants it to be served on a tea cart by a beautiful waitress.
Goof
In the original airings of the series in 2014, the animation team made a big mistake in introducing modern technology to the Peanuts world. They gave the Peanuts characters cell phones. This mistake was fixed in 2016 by replacing those phones with the old rotatory phones that have always appeared in the comic strip.
Basis
The short is adapted from two Sunday strips, one from February 1972 and one from July 1967.
Short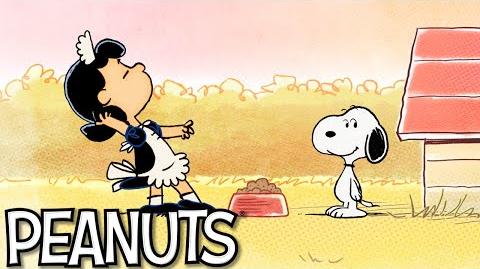 Ad blocker interference detected!
Wikia is a free-to-use site that makes money from advertising. We have a modified experience for viewers using ad blockers

Wikia is not accessible if you've made further modifications. Remove the custom ad blocker rule(s) and the page will load as expected.