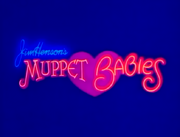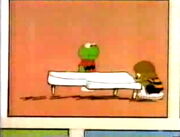 Muppet Babies is an American animated series broadcast on CBS, that aired from September 15, 1984 to November 2, 1991. Inspired by a fantasy sequence from The Muppets Take Manhattan, the show portrays childhood versions of the Muppets living together in a nursery under the care of a human woman called Nanny whose face is completely unseen throughout the entire series. The babies' imaginary games transition from the nursery into scenes that become "real" to the babies, such as finding themselves aboard a pirate ship or in the land of Oz.
References to Peanuts
During the show's Saturday morning run on CBS, the Muppet Babies appeared in a print ad with the words "Charlie Brown and Snoopy" at the top of the ad.
In the episode "Bug-Busting Babies", when the babies recruit Fozzie as a bug exterminator, he comments on their outfits and heavy gear, "Hey, if this is Halloween, can I be the Great Pumpkin?"
In the episode "Comic Capers", there are several references to Peanuts. Without Nanny to read them the comics, the babies persuade Baby Kermit to interpret a Peanuts Sunday strip. Later, Baby Kermit as Charlie Brown, Baby Rowlf as Schroeder, Baby Piggy as Lucy, and Baby Skeeter as the Peppermint Patty-like "Butterscotch Skeeter". In another scene, Baby Scooter, inside a computer, is turned into a variety of comic strip icons, including Charlie Brown. Clips from the various Peanuts animated specials are also used, and a brief scene of Charlie Brown being drawn appears during the song "The Sunday Funnies."
External links
Ad blocker interference detected!
Wikia is a free-to-use site that makes money from advertising. We have a modified experience for viewers using ad blockers

Wikia is not accessible if you've made further modifications. Remove the custom ad blocker rule(s) and the page will load as expected.