Mutts is a daily and Sunday comic strip created by Patrick McDonnell in 1994. The comic strip is centered on the day-to-day adventures of two companion animals: a dog named Earl and a cat named Mooch. Mutts explores the special bond between animals and their guardians, and the endearing friendship of Earl and Mooch. It strikes a delicate balance between joy, fun and responsible social commentary. Mutts appears in more than 700 newspapers in 20 countries.
Mutts and Peanuts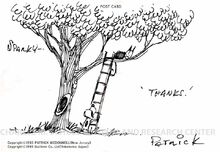 When Patrick McDonnell, creator of Mutts, was growing up, he was a big fan of Peanuts.[1] His favorite character was Snoopy, from whom he got the inspiration for Earl. McDonnell met Charles M. Schulz and became friends with his hero. Schulz gave McDonnell the original Peanuts comic strip from January 28, 1999, in which the Peanuts gang is visiting a museum and Rerun is looking at a painting of Earl. Also Schulz wrote the foreword to the first Mutts anthology, calling Mutts, "exactly what a comic strip should be."
Peanuts tributes
References
External links
Ad blocker interference detected!
Wikia is a free-to-use site that makes money from advertising. We have a modified experience for viewers using ad blockers

Wikia is not accessible if you've made further modifications. Remove the custom ad blocker rule(s) and the page will load as expected.