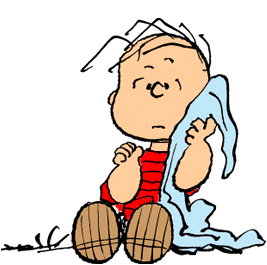 "My Blanket and Me", is a song from the stage musical You're a Good Man, Charlie Brown but it does not appear in the animated TV special of the same name. It is sung by Linus and the rest of the cast.
In the song, Linus tries to prove to Lucy that he does not need his blanket but ultimately fails.
Lyrics
Lucy: Look at my little baby brother, Linus, with is little baby blanket.
Sally: There's your baby brother with his silly little blanket.
Lucy: Well, you know how babies are with their blankets.
Linus: Whaddaya mean? (Starts singing)
It's a cozy sanctuary but it's far from necessary,
'Cause I'm just as self-reliant as before.
As a simple demonstration of my independent station,
I will go and leave my blanket on the floor.
Yes I'll walk away and leave it though I know you won't believe it,
I'll just walk away and leave it on the floor.
Yes................I'll walk..................away :and.............leave..................it..............on............the...
Aarrrggghh! (Runs back and gets his blanket)
Don't ever let me do that again.
Lucy: You're a hopeless case, Linus...
Linus: I thought I could do it. I actually thought I could do it.
It's foolish, I know it I'll try to outgrow it but meanwhile,
It's my blanket...
Lucy: And me.
Sally: And me.
Charlie Brown: And me.
Schroeder: And me.
Linus: And me.
Videos
Ad blocker interference detected!
Wikia is a free-to-use site that makes money from advertising. We have a modified experience for viewers using ad blockers

Wikia is not accessible if you've made further modifications. Remove the custom ad blocker rule(s) and the page will load as expected.