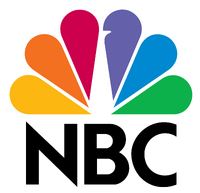 NBC is a major American television network, which started as a radio network. It is sometimes nicknamed as the "Peacock Network" as a reference to the network's logo.
NBC debuted You're in the Super Bowl, Charlie Brown on January 18, 1994, due to NBC having the rights to air Super Bowl XXVIII. To date, it remains the only Peanuts animated television special to have premiered on the network. The live-action film The Big Stuffed Dog, the original television adaption of You're a Good Man, Charlie Brown as part of the Hallmark Hall of Fame series (not to be confused with the later animated television special) and the ice shows Snoopy at the Ice Follies, Snoopy's International Ice Follies and Snoopy Directs the Ice Follies have all premiered on NBC as well.
External links
Ad blocker interference detected!
Wikia is a free-to-use site that makes money from advertising. We have a modified experience for viewers using ad blockers

Wikia is not accessible if you've made further modifications. Remove the custom ad blocker rule(s) and the page will load as expected.