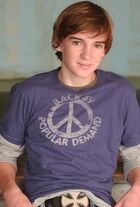 Nick Price (born on April 5, 1993) is an American former child actor. He voiced Schroeder in I Want a Dog for Christmas, Charlie Brown. He also played Dennis' Friend in Silver Lake, Dunlap Dewberry in Because of Winn-Dixie, Andrew in Medium, George Marks in Cold Case, Littlefoot in The Land Before Time XII: The Great Day of the Flyers, and Pete Crenshaw in The Three Investigators and the Secret of Skeleton Island and The Three Investigators and the Secret of Terror Castle.
External links
Ad blocker interference detected!
Wikia is a free-to-use site that makes money from advertising. We have a modified experience for viewers using ad blockers

Wikia is not accessible if you've made further modifications. Remove the custom ad blocker rule(s) and the page will load as expected.