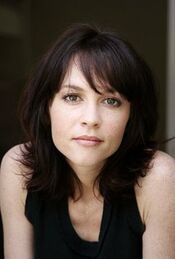 Olivia Nicole Burnette (born March 24, 1977) is an American actress.
Career
Burnette began her career at age six. Perhaps her most famous role was that of Dorothy Jane Torkelson on the NBC sitcom The Torkelsons, later renamed Almost Home. She also notably played two different roles on the NBC series Quantum Leap. She made a guest appearance in the episode "Another Mother" before later appearing as Sam's sister Katie in the episode "The Leap Home."
She has made a number of film and TV appearances since then, including appearances on both JAG and its spinoff, NCIS (though playing different characters). Both shows were produced by Donald Bellisario, who had also created Quantum Leap.
Burnette voiced Janice, in the Peanuts TV special Why, Charlie Brown, Why?
Personal life
Burnette resides in southern California with her husband, singer/songwriter/producer Julian Sakata, and her five-year-old stepson, Rain.
External links
Ad blocker interference detected!
Wikia is a free-to-use site that makes money from advertising. We have a modified experience for viewers using ad blockers

Wikia is not accessible if you've made further modifications. Remove the custom ad blocker rule(s) and the page will load as expected.