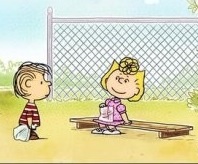 "Pâte d'amour"
(French for "peanut butter love") is a short animated cartoon from the 2014 French TV series
Peanuts
, produced by Normaal animation and based on the comic strip
Peanuts
by
Charles M. Schulz
. It first aired on France 3 on December 9, 2014.
Plot
It is lunchtime at school. Sally and Linus are sitting together on the same bench. Sudently, a football hits Linus on the head. Linus goes to see the nurse. He tells that he does not have a headache, he has some peanut butter in his eye because Sally tired to kiss him better.
Ad blocker interference detected!
Wikia is a free-to-use site that makes money from advertising. We have a modified experience for viewers using ad blockers

Wikia is not accessible if you've made further modifications. Remove the custom ad blocker rule(s) and the page will load as expected.