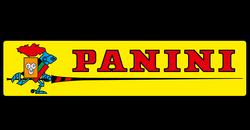 Panini Group is a company headquartered in Modena, Italy. It is named after the brothers Benito and Giuseppe Panini who founded it in 1961. Panini Group has a Licensing Division which exists to buy and sell the rights to various intellectual properties, including comic strips. The company also publishes books, comics, magazines, trading cards and trading card games. It remains, however, best known for its brand of collectible stickers, the first items that the Panini Group ever produced, and the accompanying albums in which the stickers can be posted.
In 1960, Benito and Giuseppe Panini were running a newspaper distribution office in Modena. They came across some stickers which had been made by a company from Milan and which had failed to sell. Benito and Giuseppe Panini repackaged the stickers in packets of two and sold the packets for ten lire each. The Panini brothers sold 3 million packets of the stickers. The following year, they founded a company to produce and sell their own stickers. They sold 15 million packets of stickers in 1961 and 24 million in 1962. Panini's soccer themed stickers soon became popular across Europe.
In the 1970s, Panini introduced self-adhesive stickers. Prior to that, collectors had to use glue to post the stickers into albums.
Panini took over the American trading card company Donruss in 2009 and inherited Donruss' right to produce NBA trading cards and stickers. In 2010, Panini acquired the rights to produce NHL and NHLPA merchandise.
Although Panini is best known for its sports-related stickers, especially soccer-related ones, it has also produced collectible stickers and accompanying albums based around many other themes, including the Peanuts comic strip and the 2015 film The Peanuts Movie.
Panini Comics is the publisher of the Italian-language edition of The Complete Peanuts.
Videos
<
External links
Ad blocker interference detected!
Wikia is a free-to-use site that makes money from advertising. We have a modified experience for viewers using ad blockers

Wikia is not accessible if you've made further modifications. Remove the custom ad blocker rule(s) and the page will load as expected.