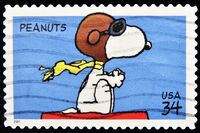 The Peanuts WWI Flying Ace U.S. postage stamp was released on May 17, 2001 during a ceremony in Santa Rosa, California. The value was 34 cents, First Class. Many people attended and waited in an all-day line to purchase the stamps and special first-day cover "cachets."
The stamp was released to the general public the following day, on Friday, May 18. Interest was high throughout the United States, and some post office stations clearly did not order enough the first time, as many people complained about not being able to get any (no doubt because collectors snapped up literally thousands!).
The stamp's first printing was 125 million.
Ad blocker interference detected!
Wikia is a free-to-use site that makes money from advertising. We have a modified experience for viewers using ad blockers

Wikia is not accessible if you've made further modifications. Remove the custom ad blocker rule(s) and the page will load as expected.