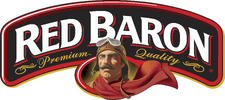 Red Baron Pizza is a brand of American frozen pizza made by the Schwan Food Company of Marshall, Minnesota. The brand first went on sale in 1976.
Between 1979 and 2007, Red Baron Pizza was promoted by the Red Baron Squadron. The squadron flew five modified Boeing-Stearman Model 75 biplanes. They performed formation aerobatics at air shows across the United States. Their base of operations was at Southwest Minnesota Regional Airport in Marshall, where a Red Baron air museum was also located.
in 2015, images from The Peanuts Movie appeared on some Red Baron Pizza boxes.
See also
External links
Ad blocker interference detected!
Wikia is a free-to-use site that makes money from advertising. We have a modified experience for viewers using ad blockers

Wikia is not accessible if you've made further modifications. Remove the custom ad blocker rule(s) and the page will load as expected.