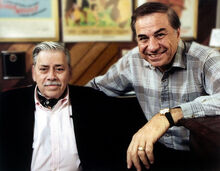 Richard M. Sherman and Robert B. Sherman are world renowned music composers who composed the songs for Snoopy, Come Home. Other animated features where they composed music include such famous musical movies like The Many Adventures of Winnie the Pooh, The Sword in the Stone , The Aristocats, The Jungle Book, Mary Poppins, Chitty-Chitty-Bang-Bang, Bedknobs and Broomsticks, Charlotte's Web, and Tom Sawyer.
Ad blocker interference detected!
Wikia is a free-to-use site that makes money from advertising. We have a modified experience for viewers using ad blockers

Wikia is not accessible if you've made further modifications. Remove the custom ad blocker rule(s) and the page will load as expected.