For the Beagle Scout, see Roy (bird)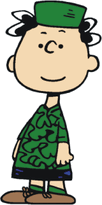 Roy is a minor male character in the comic strip Peanuts by Charles M. Schulz.
History
Roy first appeared in the strip from June 11, 1965, where he meets Charlie Brown at summer camp. The following year, he would introduce Charlie Brown to his friend Peppermint Patty, whose impact on the strip would be much greater than Roy's.
Roy was never a major character, not even in the year of his debut. Roy continued to appear occasionally (mostly at camp) until the mid 1970s. He made his last appearance on May 27, 1984. Some say his role as Peppermint Patty's friend was taken over by Marcie.
Roy has appeared in Peanuts animated television specials, such as Is This Goodbye, Charlie Brown? He has a speaking part in He's Your Dog, Charlie Brown and He's a Bully, Charlie Brown. He also appears in a MetLife Peanuts Thanksgiving commercial from 1988.
Ad blocker interference detected!
Wikia is a free-to-use site that makes money from advertising. We have a modified experience for viewers using ad blockers

Wikia is not accessible if you've made further modifications. Remove the custom ad blocker rule(s) and the page will load as expected.