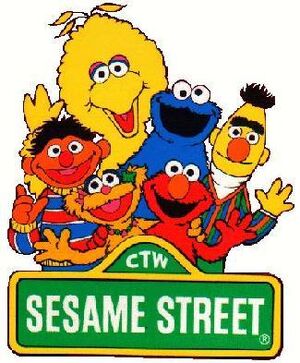 Sesame Street is a groundbreaking, Emmy Award-winning children's educational television series airing on PBS. Known primarily for its cast of Muppet characters, the series debuted on November 10, 1969, and uses a mix of education and entertainment to teach children basic concepts about numbers, letters, life lessons and much more. The series, produced by Sesame Workshop (previously the Children's Television Workshop), has gained popularity by both young and older audiences since its debut.
Peanuts and Sesame Street characters and based attractions appear together in Universal Studios Japan.
References to Peanuts
A picture of Snoopy can be seen briefly in a Sesame Street live-action film "Round Things." The insert appeared in the Sesame Street Pitch Reel and the first test show, as well as later episodes of the series.
At the end of a "Sesame Street News Flash" skit, when it literally "rains cats and dogs," one of the props used is a Snoopy doll.
In Episode 1157 of Sesame Street, a human character, Linda owns a dog named Snoopy.
A scene featuring Elmo piloting a plane in Elmo's World: Transportation uses Vince Guaraldi's "Linus and Lucy" theme, used in the Peanuts television specials, as backround music.
In a Sesame Street video, Elmo's Potty Time, Gordon, a human character, is reading a Peanuts comic to Baby Bear and his sister Curly.
In one Sesame Street segment, the Two-Headed Monster uses a newspaper in a number of ways. A Peanuts comic strip can be seen on the front of the newspaper.
In Elmo's Christmas Countdown, when "Stan the Snowball" finds out that "Stiller the Elf" is in the story, he says that Stiller is famous, "like The Grinch, or Frosty, or that round-headed kid who picked out that crummy tree", referring to A Charlie Brown Christmas.
In Sesame Street Unpaved, it's pointed out that Telly Monster shares his astrological sign, Libra, with Charlie Brown.
The song "Happiness" from You're a Good Man, Charlie Brown, has been featured many times on the show.
References to Sesame Street in Peanuts
Sesame Street character, Kermit the frog, is mentioned in the strip from January 22, 1988. When Lucy tells Charlie Brown he needs a dog, Snoopy comes over and says, "Who do you think I am, Kermit the frog?"
External links
Ad blocker interference detected!
Wikia is a free-to-use site that makes money from advertising. We have a modified experience for viewers using ad blockers

Wikia is not accessible if you've made further modifications. Remove the custom ad blocker rule(s) and the page will load as expected.