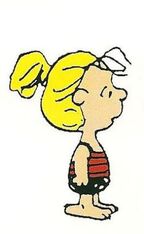 Shirley is a minor female character from the Peanuts comic strip by Charles M. Schulz. She first appeared in the strip from June 18, 1968 and last appeared in the strip from July 20, 1987. She also appears in the animated TV special, It Was a Short Summer, Charlie Brown, in which she is voiced by Sally Dryer. She is one of Peppermint Patty's tent monitors. She wears a summer camp uniform, which is colored green in It Was a Short Summer, Charlie Brown, and has black shorts and shoes. She is friends with Sophie and Clara (who is similar to Marcie).
In the TV special, the girls (namely Shirley herself, Sophie, Clara, Lucy van Pelt, Violet, Patty, Sally Brown, Frieda, 3 and 4, and others) try to defeat the boys (namely Charlie Brown, Shermy, "Pig-Pen", Schroeder, 555 95472, Snoopy who is referred to as "The Masked Marvel" and others). Shirley tries to wrestle "The Masked Marvel" to beat the boys.
Shirley, Sophie, and Clara ask Peppermint Patty why the camps are separated.
Ad blocker interference detected!
Wikia is a free-to-use site that makes money from advertising. We have a modified experience for viewers using ad blockers

Wikia is not accessible if you've made further modifications. Remove the custom ad blocker rule(s) and the page will load as expected.