Snoopy!!! The Musical (TV special)
Talk

0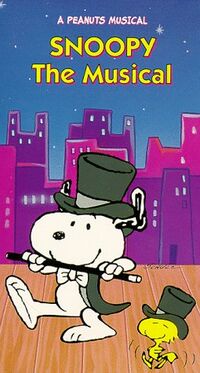 Snoopy!!! The Musical is the thirty-first animated television special based on Charles M. Schulz's comic strip Peanuts and the second one to be based on a stage musical, the animated version of You're a Good Man, Charlie Brown having first been broadcast two years earlier. Snoopy!!! The Musical first aired on CBS on January 29, 1988. It is based on the musical comedy of the same name that was first performed in 1975.
Unusually for a Peanuts television special, the audience can hear Snoopy's thoughts in the form of human speech and song, although the child characters in the show can not understand him. The only other program in which this is the case is the adaptation of You're a Good Man, Charlie Brown.
Contents of the show
Snoopy!!! The Musical centers around the characters, Snoopy, Woodstock, Charlie Brown, Sally Brown, Lucy van Pelt, Linus van Pelt and Peppermint Patty. Unlike in the comic strip, all five children are portrayed as attending the same school and being in the same class, taught by Miss Othmar. Other Peanuts characters, including Schroeder, Frieda, Marcie and Franklin appear briefly in non-speaking roles.
The show consists of a series of vignettes, without a unifying plot, each vignette containing a song. The featured songs are:
Cast
Goofs
External links