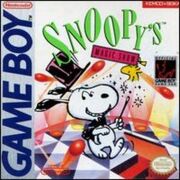 Snoopy's Magic Show (Japanese: スヌーピーのマジックショー; Snoopy no Magic Show) is a Gameboy game released in 1990, developed and published by Kemco. It was released in all regions.
The player plays as Snoopy, if multiplayer mode is chosen, another player can play as Spike. The object of the game is to rescue four Woodstocks by dodging bouncing balls, pushing blocks, using warp zones and power-ups. There are about 120 levels.
Ad blocker interference detected!
Wikia is a free-to-use site that makes money from advertising. We have a modified experience for viewers using ad blockers

Wikia is not accessible if you've made further modifications. Remove the custom ad blocker rule(s) and the page will load as expected.