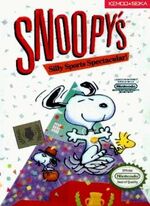 Snoopy's Silly Sports Spectacular!, known in Japan as Donald Duck (ドナルドダック?), is a children-oriented sports game that was released by Kemco for the Nintendo Entertainment System in 1989. The game is a collection of six events that uses various characters from the Peanuts series (Donald Duck in the Japanese version) as opponents. Events include boot throwing (similar to hammer throwing), pizza balancing, and sack racing, among others. In the background, landmarks unique to Italy are shown (i.e., Leaning Tower of Pisa) and the structures using Roman architecture (i.e., the Colosseum) are shown while the player competes at the six events.
Development
After the release of the Family Computer Disk System title, Roger Rabbit, Kemco still had the rights to release Disney-based video games in Japan, while the Who Framed Roger Rabbit licensed expired, making them randomly choose Donald Duck and release a video game starring him in Japan. As Japanese video game company Capcom USA held the Disney license in North America, Kemco decided to license Snoopy instead for the North American version.
External links
Ad blocker interference detected!
Wikia is a free-to-use site that makes money from advertising. We have a modified experience for viewers using ad blockers

Wikia is not accessible if you've made further modifications. Remove the custom ad blocker rule(s) and the page will load as expected.