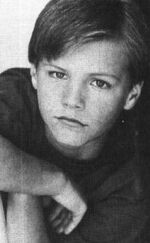 Steven Hartman (born December 26, 1983 in Los Angeles, California) is a former child actor who provided the voice of Charlie Brown in It Was My Best Birthday Ever, Charlie Brown.
His other credits include starring on the soap opera The Young and the Beautiful as Rick Forrester from 1995 to 1997 and appearing in the films Angus and Casper: A Spirited Beginning.
External links
Ad blocker interference detected!
Wikia is a free-to-use site that makes money from advertising. We have a modified experience for viewers using ad blockers

Wikia is not accessible if you've made further modifications. Remove the custom ad blocker rule(s) and the page will load as expected.