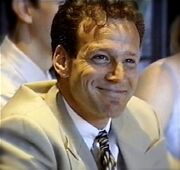 Stuart Everett Brotman (February 27, 1966 – January 29, 2011) was a former child actor. He was born in Rochester, Minnesota.
Brotman was the actor that provided the voice of Peppermint Patty in the 1977 film Race for Your Life, Charlie Brown and in two Peanuts television specials, You're a Good Sport, Charlie Brown and It's Arbor Day, Charlie Brown. Brotman also voiced Peppermint Patty in the Peanuts 25th anniversary special Happy Anniversary, Charlie Brown and was featured in the 1990 television documentary special You Don't Look 40, Charlie Brown.
Stuart Brotman died on January 29, 2011 in San Francisco, California, of complications from a brain aneurysm.
External links
Ad blocker interference detected!
Wikia is a free-to-use site that makes money from advertising. We have a modified experience for viewers using ad blockers

Wikia is not accessible if you've made further modifications. Remove the custom ad blocker rule(s) and the page will load as expected.